Engineering and Consultancy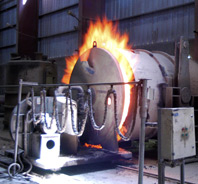 PİRİMER project department, responsible for the engineering and design of complete industrial plants and application of recent technologies applies contemporary project techniques; "Computer Aided Design (CAD)" and has the richest data and project archives on Iron & Steel industry.
PÄ°RÄ°MER designs & manufactures the Meltshop & Bar Mill equipments such as EAF, LF, CCM, billet reheating furnaces, billet transferring systems, rolling mill stands & mechanizations; shears, cooling beds, controlled cooling units, bar finishing facilities for the bar & section rolling mills and also following areas.
The other activities of PÄ°RÄ°MER Engineering & Contracting section are:
Feasibility studies

Selection of convenient technologies & optimum solutions

Planning engineering

Quality assurance & control engineering
Basic & Detailed Engineering, Process Design, Equipment Design & Supply, Contractual Basis Plant Operation, Consulting and Modernization & Upgrading services are supplied for the following plants and systems;
Meltshops & CCMs

Rolling Mills

Lime Plants

Ferro Alloy Plants

Dedusting & Environment Control Systems

Utilities & Water Treatment Systems
Meltshop and Continuous Casting Machines
PÄ°RÄ°MER UHP AC Electrical Arc and Ladle Furnaces 25 to 100 tons

LF – Ladle Furnaces

CCM – Continuous Casting Machines

CCM Turrets

2 – 6 Strand CCM Machines

Automatic Mould Level Control Systems

Flexible and/or Rigid Dummy-Bar Systems

Automatic Oxy-Torch Cutters Systems

Cooling Beds

Cranes & Auxiliary Systems
Rolling Mill
Reheating Furnaces

Bar Mill & Medium Section Mills

Continuous Type Mill Trains

Cross Country Type Mill Trains

Pusher & Walking Beam Type Reheating Furnaces up to 100 T/H capacities.
Special features of PÄ°RÄ°MER Mini-Steel Plants include:
Hot Billet Charging Technology in Bar Mills
Lime Plant
Lime Furnaces Design up to 5 – 150 ton/day

Lime Furnaces Manufacturing and Erection (coal/fuel-oil)

Hydrating & Packing Systems
Ferro Alloy Plant
Silo

Bunker

Conveyor Systems

Charging Systems

Storage

Weighing Unit
Dedusting & Environment Systems
Fume Suction Unit From Ducts

Arc Furnace Hot Gas Pipe Line (Water Cooling)

Ladle Furnace Hot Gas Pipe Line

Arc Furnace Hot Gas Pipe Line Cooling Systems

Fume Dedusting Silos

Fume Dedusting Filters

Fume Dedusting Bunkers & Fume Transferring Systems

Stack Gas Pipe Line

Stacks

Fume Aspirator Systems

Pelletizing Systems
Utilities & Water Treatment Systems
Cooling Tower

Emergency Cooling Water Systems

Automation Systems

Distribution Systems

Filters